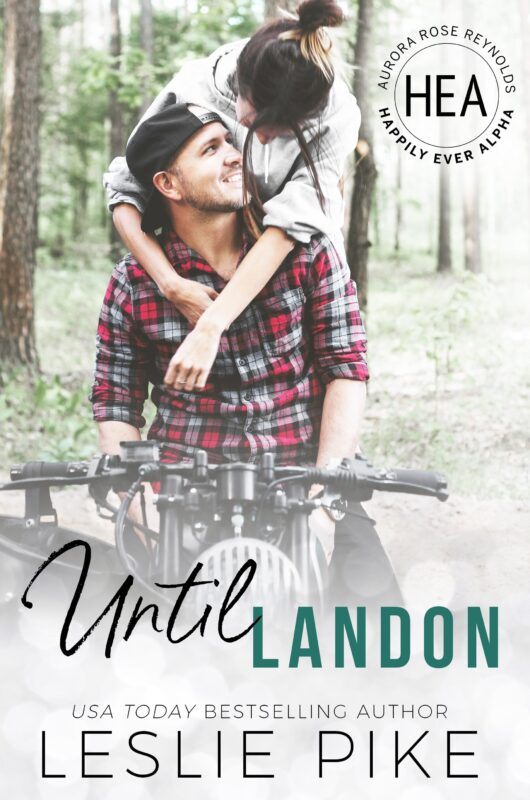 USA Today best-selling author Leslie Pike, returns with an enduring story of love and family. The HEA World, Swift Series crossover is a passionate tale that explores the ties that bind.
About the Book
Grumpy Landon Podesta is on a reluctant hero's journey.
The visit home begins with shielding a good woman from a bad man's intentions. Followed by becoming caretaker for a recuperating father, his beloved biker bar, and the rundown homestead.
The break in the clouds? A stubborn memory of the dancing woman. And how it felt being her protector.
Widow Kim Ripley knows herself and the life goals she intends on reaching.
Get son Hunter through college, keep the family home in Smyrna, find a fulfilling job.
Being rescued in a bathroom by a brooding bartender was not part of the plan. But a freight train barreling right for you is hard to ignore.
Until Landon is part of the Aurora Rose Reynolds' s Happily Ever Alpha World. If you loved Until July, then you will want to read Until Landon.
Disclosure of Material Connection: Some of the links in the page above are "affiliate links." This means if you click on the link and purchase the item, I will receive an affiliate commission. I am disclosing this in accordance with the Federal Trade Commission's
16 CFR, Part 255
: "Guides Concerning the Use of Endorsements and Testimonials in Advertising."