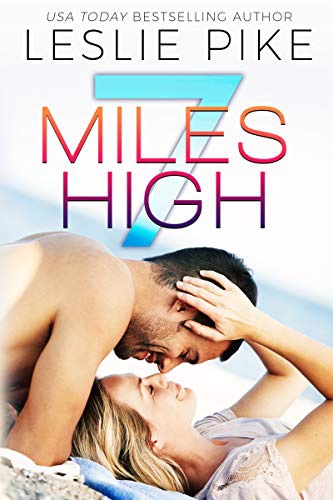 7 Miles High
The first novel in the Easy Street series, 7 Miles High is a contemporary romance of finding your true love on a plane, then never letting them go. Adventurous, funny, and full of heart, this love story by author Leslie Pike will have readers flying into an emotional rollercoaster of passion and new beginnings.
About the Book
Sometimes the one is right in front of you…
NATALIE
Recently divorced? Check. Trust issues from ex-husband? Check.
Meeting my soulmate on a plane to Cancun? Not what I expected.
This bachelorette weekend was all about letting loose and having fun, not finding the man of my dreams. Guess you can't pick when you find your soulmate. Oops.
I'm not ready for another commitment, but Parker drives me crazy. One wild weekend in the tropics later, and I've found Parker's the man that stands out from all the boys I've had before.
But can we really last once this trip is over? I have my doubts, but Parker wants to take our relationship sky-high…
PARKER
I'm not a guy that likes to get serious. Flings are more my thing, and I know exactly how to satisfy any lady that crawls into my bed.
But Natalie offers something more, and with one look at her, I know this bachelor's getaway just became a romantic quest to chase down the girl of my dreams.
We've got a strong connection, but Natalie's trust issues have forced us to remain distant. I could never break her heart like her ex did. And I'm about to prove it.
In all the right ways.
The party's just gotten started, but what Natalie and I have… it's forever.
I just have to convince her of that.
*Authors Note: The first part of this story was featured in USA Today Best Selling, Spring Fling Anthology. This story has been re-edited and lengthened to include a full HEA and lots of extras.
Disclosure of Material Connection: Some of the links in the page above are "affiliate links." This means if you click on the link and purchase the item, I will receive an affiliate commission. I am disclosing this in accordance with the Federal Trade Commission's
16 CFR, Part 255
: "Guides Concerning the Use of Endorsements and Testimonials in Advertising."