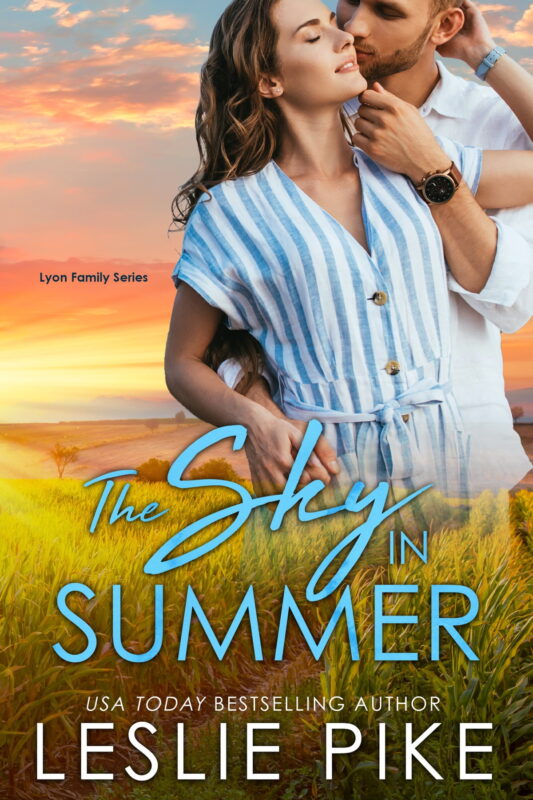 From USA Today bestselling author Leslie Pike. THE SKY IN SUMMER is a single-mother, friends to lovers romance.
About the Book
Goodbye Montana,
It's me, not you. I'm getting out. Moving on. Specifically? To Paris where an apartment I inherited is waiting for me. I pretty much have perfected the art of being single and nothing is going to keep me here. Especially not a gorgeous single-mom of two, I have no business thinking about.
In all humility,
Van Lyon
Dear dating app,
I don't know how to write a dating profile, but if I were to give it a try, I guess I'd start with:
Thirty-eight, slightly sarcastic mother of teenage twins, anchored in Billings, Montana. Into sweatshirts, sweatpants, and eating out of a pan. NOT interested in any BS.
My hotter than hell friend Van Lyon, need not apply.
Yours in sexual frustration,
Layla Silver
Under THE SKY IN SUMMER, old friends remember the spark.
Thirty-three years ago in Kindergarten,
He showed her his wiener,
She showed him her buns,
It was love at first sight.
A standalone novel, set in the family saga LYON FAMILY SERIES.
Other Books in "The Lyon Family Series"
Disclosure of Material Connection: Some of the links in the page above are "affiliate links." This means if you click on the link and purchase the item, I will receive an affiliate commission. I am disclosing this in accordance with the Federal Trade Commission's
16 CFR, Part 255
: "Guides Concerning the Use of Endorsements and Testimonials in Advertising."